Description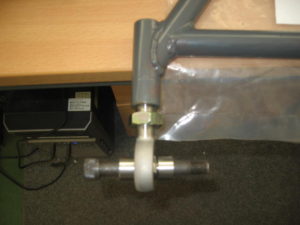 Product
26R Rear Wishbone
Part Number
RACE26RWB1
Description
Full race rear wishbone

These wishbones are designed for 26Rs running modern grippy racing tyres, which as a result require more wheel camber.

They can also be used on 26Rs that run on historic tyres with less grip. Simply cut the wishbone at the pre-marked groove (highlighted white in the picture) to shorten the wishbone, which in turn reduces wheel camber.

We can also supply the correct length, high quality, cap screws for the outer wishbone to upright rose joint mounting available as part numbers :- RACE26RWBB01 and 02. One of each is required per wishbone. Please order separately if required.

NMB 26R Outer Rear Wishbone Spherical Joint also available, and sold separately – Part number: RACERJ16

Inner Rear Wishbone Rose Joint Spacer also available, and sold separately – Part number: RACERJ05A

Outer Rear Circlip also available, and sold seperately – Part Number: RACERJ17

Drawing showing how the rose and spherical joints fit to the rear wishbone.